Red Beans & Rice 3 Ways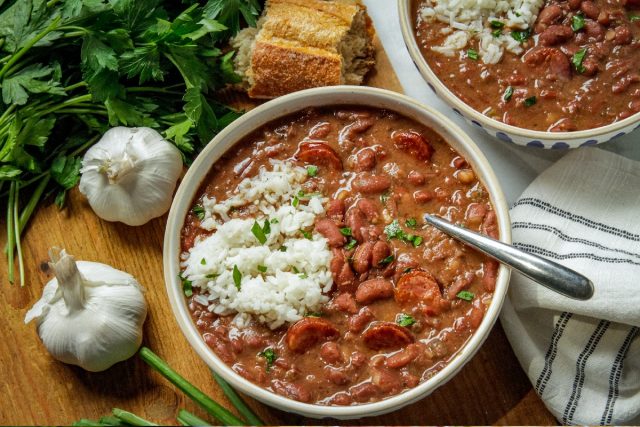 There are three bean-approved ways to cook up delicious, scratch-made red beans and rice, and the method you choose comes down to three things: personal taste, the amount of time you have, and the appliance you prefer.
Stovetop, Slow Cooker & Instant Pot Methods
First, there's the traditional, time-honored stovetop method of simmering all the ingredients to creamy perfection in a dutch oven pot. Then there's the slow cooker method – or the "set it and forget it " approach. And finally, there's the Instant Pot or electric multi-cooker method, which pressure cooks beans in a short amount of time.
A Few Basic Ingredients & Steps = Delicious Red Beans and Rice
A little forethought and planning is all it takes to cook red beans. In fact, all three methods involve a few basic ingredients and steps: soaking the beans (which is totally optional, by the way), chopping the trinity (onions, bell pepper, and celery) or using pre-chopped trinity, slicing or chopping whatever sausage or meat you prefer, sautéing the trinity and sausage (optional for the slow cooker method), and then adding the beans, liquid, and spices. Keep in mind that there are so many different ways to deliciously flavor and season your red beans, that there is no "right" way!
Let's look at the pros and cons of each cooking method:
There's simply no rushing the process of slowly simmering red beans on your stovetop. You have to set aside a few hours to do it, but it's actually hard to get it wrong, and the only thing you need to be concerned with is making sure there's enough liquid in the pot and stirring occasionally, so that the beans don't burn. Everything else about the process is very forgiving. Need more liquid, just add it. Need more spice? Give it a dash here and there. Like it creamy? Keep cooking, and keep stirring. For many, gently coaxing their beans into a state of creamy perfection on the stovetop is both a pleasurable experience and a bit of kitchen therapy that they look forward to on a weekly basis.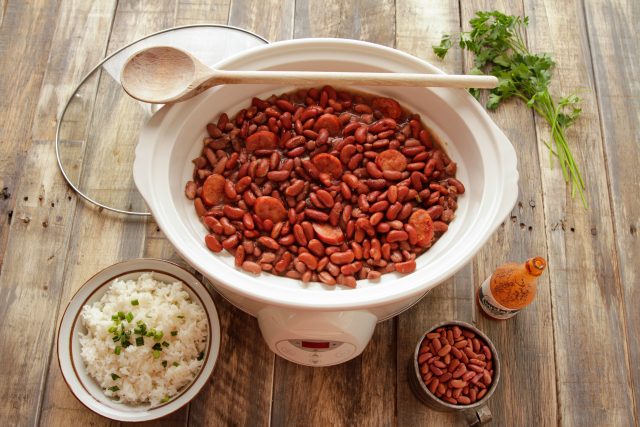 While you're busy doing other things all day, the slow cooker can be busy, too – turning your red beans into a delicious meal. Get home from school or work, cook a pot of rice, and dinner is served. Slow cooking your red beans is also ideal for parade season and football season – because you can enjoy the festivities while the beans are cooking, and then keep them warm for serving right from the slow cooker. Now, you might get deeper flavor if you sauté the trinity and meat in a skillet before adding all ingredients to the slow cooker. However, if you don't have time for that, you can literally dump and go – adding everything to the slow cooker at once, turning it on, and walking away. It usually takes anywhere from 8-10 hours using low heat and 4 hours using high heat. Some like to toss everything in the slow cooker in the morning, so that their red beans are ready by dinner time; others prefer to slow cook their red beans overnight, so that they can eat them for lunch the next day. Sometimes the end result is not as creamy as stovetop red beans, but that can usually be remedied with the use of a potato masher to thicken things up.
The Instant Pot is another great option for when you need to start dinner and then walk away to do other things. The beans don't need to be pre-soaked, and you can use the sauté feature to cook the trinity and sausage first, before adding the rest of the ingredients to the pot and switching to manual mode. Setting the timer to 40 minutes at high pressure and then allowing for 20 minutes of natural pressure release is usually all you need for tender beans. And that's pretty darn fast! Note: if there are still some not-so-tender beans here and there, simply cook at high pressure for an additional 5-10 minutes. And when you remove the lid, if there's too much liquid remaining for your taste, put the cooker on sauté mode again, and stir occasionally. This will allow excess liquid to evaporate. All in all, using the Instant Pot is the best way to cook dried beans quickly and be able to walk away while doing it. And the ability to do everything in one appliance is icing on the cake.
Whichever way you choose to cook red beans and rice, follow our tips, and you're bound to end up with a wonderful meal everyone will enjoy.