Festive Dinner Party Dishes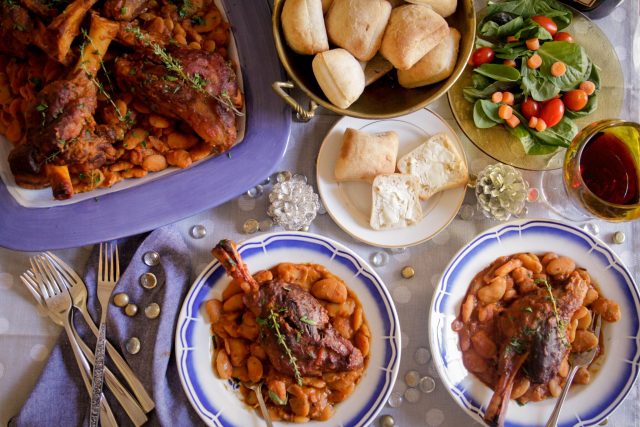 'Tis the season to celebrate with intention — and hosting a festive dinner party or Reveillon feast for friends, neighbors and family is a great way to pull out all the stops. Invite those whose company you enjoy the most, and plan a menu that includes one or two truly special dishes like the ones featured here — recipes that require a little extra time and effort but are worth all the love you put into them. Set a colorful, glittery table, let the wine and champagne flow freely, and treat yourself and your lucky guests to the kind of delicious mains that are worthy of becoming an annual tradition.
Lamb Shanks with Garlic & Butter Beans is one of those incredibly flavorful entreés that makes a gorgeous presentation and a beautiful meal. A savory recipe from Chef Jennifer Hill Booker's latest cookbook Dinner Déja Vu, it features slow cooked Camellia Brand Large Lima Beans (also known as butter beans) and fork-tender lamb shanks in a rich, creamy sauce. Made with garlic, shallots, brandy, ripe tomatoes, and copious amounts of white wine, it's actually an easy-to-follow recipe, and any home cook can tackle it with a little time and patience. You'll need a large dutch oven (at least an 8-qt.) with a tight-fitting lid because it simmers first on the stovetop, and then gets baked in the oven, and you should plan for about 4 hours of cook time. (Keep in mind that while a dutch oven is doing the work, that's hands-off cook time that allows you to prep other parts of your menu.) The wonderful smells wafting from your kitchen will be so tempting, everyone will have trouble waiting to sit down at the table before digging in.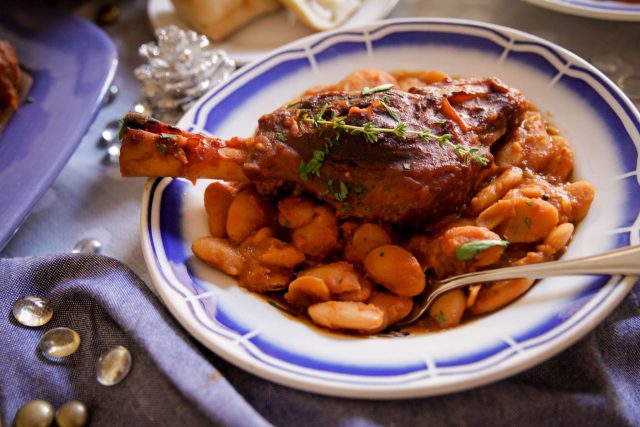 And since Lamb Shanks with Garlic & Butter Beans is both a main and side dish all in one pot, you can simply add a green salad, some crusty bread or soft dinner rolls and a few bottles of your favorite red wine. Your guests will be talking about how delicious it was long after the last plate is cleared.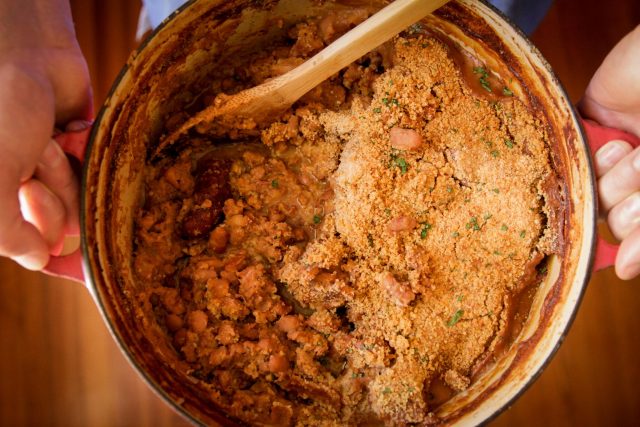 Another dinner party-worthy recipe for a rich, slow cooked bean casserole is Chef Jennifer Hill Booker's fabulous Cassoulet, also from her Dinner Déja Vu cookbook. Featuring four different kinds of pork — smoked ham hocks, boneless pork shoulder, salt pork and Andouille sausage — as well as two pounds of Camellia Brand Pinto Beans and fresh herbs and vegetables, this heartiest of dishes will feed a large crowd of party guests.
You'll need to start prepping the day before you plan to serve it, but the extra time and care involved is worth every bite. Like the Lamb Shanks & Butter Beans recipe, you'll need a large dutch oven (at least a 6-qt.) with a tight-fitting lid, as well as about 6 hours to cook (plus more for prep time). After simmering the Cassoulet on the stove and then baking it in the oven, a rich brown crust of bread crumbs adds the finishing touch. With unbelievable flavor and the creamiest pintos ever, this dish is a total show-stopper.
Our Garlicky Shrimp & Blackeye Peas dish is also perfect for seasonal celebrations and get-togethers — especially New Year's. Throughout the South, blackeye peas are popular New Year's fare for the promise of luck and money (and because they taste so good).
In this recipe, we flavored Camellia Brand Blackeye Peas with bacon and Andouille sausage, lots of garlic and chicken stock, and made them extra special by topping with seasoned, sautéed shrimp cooked in butter, more garlic, lemon juice and white wine. Putting these two Southern favorites together in one dish — blackeye peas and Gulf shrimp — makes for a wonderful combination that everyone will love.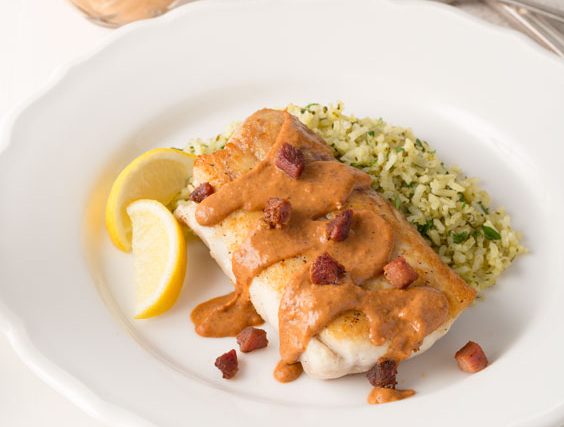 Another elegant choice is Pan-Seared Snapper with Red Bean Sauce. For the sauce, perfectly cooked Creole Red Beans are added to tomatoes, shallots and chicken stock, puréed in a blender, and then simmered on the stove with whipping cream. Seared snapper fillets are drizzled with the sauce and sprinkled with cubed, browned tasso. Talk about decadent! It's a fabulous new way to enjoy your favorite red beans.
This holiday season, let one or more of these delicious dishes grace your dinner table, and make your festive dinner party a truly memorable occasion. Looking for great appetizers to serve before the special meal? These will create a colorful spread.