Gameday Winners: Creole-Style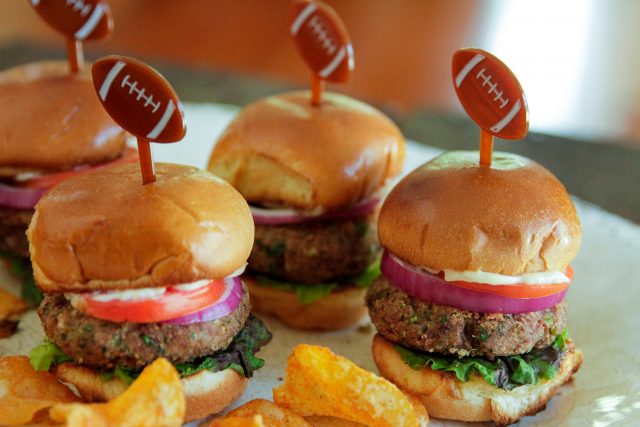 Whether you're all about hosting football parties in front of your big screen TV or doing it up right at tailgate get-togethers, you'll love these delicious gameday winners with a Creole twist. Whatever the rivalries may be among your family and friends, it's time to get serious about enjoying cocktails and decadent dishes that are deserving of this long anticipated season.
Check out these creative, indulgent recipes that incorporate classic Louisiana and southern flavors in new and totally unexpected ways. Like adding Andouille sausage and Creole seasoning to a hot bean dip, topping not-your-average nachos with gooey pimento cheese sauce and spiced blackeye peas, and adding ground pork and smoked sausage to red beans & rice and frying into bite-sized balls. Because there's nothing better than giving your favorite football foods a new lease on life and a deep southern accent. Get ready to dig in.
A Smoky Bloody Mary with all the fixins' is a must when you're getting ready for a 12 noon game. Featuring standard building blocks like vodka, tomato juice, celery salt, Worcestershire, and horseradish — this recipe adds savory, smoky accents provided by a few dashes of Tabasco Chipotle Pepper Sauce and a rim of smoked paprika and kosher salt. Garnished with celery, bacon, pickled okra, cornichons and olives, it's southern brunch in a cup.
This spicy slow cooker bean dip comes from Louisiana girl at heart, Creole Contessa, and puts a new Louisiana twist on an old school favorite. First off, Creole seasoning, black pepper and garlic powder give the base layer of refried beans (made from cooked Camellia Brand Pinto Beans) a real kick that gets things going. Layers of sharp cheddar, pickled jalapenos, and Monterrey jack cheese take it up a notch. And then, Creole flavor goes over the top with layers of cooked spicy Andouille sausage and crispy bacon. Lastly, a generous helping of Mexican cheese blend melts over everything. But why stop there? This Slow Cooker 7-Layer Creole Bean Dip begs to be topped with chopped green onions, sour cream, and avocado. Oh, my. Add bowls of tortilla chips, and watch it get devoured.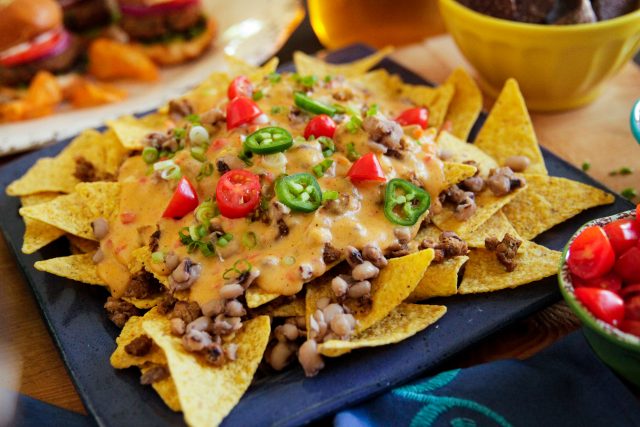 This dish is what happens when Tex-Mex and Southern flavors collide. Layers of tortilla chips are topped with a hearty, spicy mixture of browned ground turkey, Creole seasoning, spices, and cooked Camellia Brand Blackeye Peas. Then all that deliciousness is drenched in a creamy, homemade Pimento Cheese sauce with flavor for days — and studded with fresh jalapenos, grape tomatoes, and green onions. Run, don't walk to these nachos.
Everyone knows that one-handed foods are a must at football parties, so that the other hand is free to hold a beer or cocktail. Which is why we love these Red Bean & Rice Sliders — an inventive New Orleans take on the mini burger. They're lovingly made by combining cooked trinity vegetables, cooked white or brown rice, cooked Camellia Brand Red Kidney Beans, whole wheat bread crumbs, and seasonings in a food processor. Then they're formed into itty bitty patties and browned in a hot skillet. Served dressed on brioche rolls, these cuties make for a little bit of Creole heaven in an all-new, one-handed form.
Red Beans and Rice Boudin Balls combine the best of all worlds — delicious ingredients, a snackable size, and oh yes, crispy fried goodness. An incredibly tasty combo of cooked red beans and rice, smoked sausage, ground pork, and seasonings are formed into balls, rolled in corn flour and egg wash, and fried till golden. What more could you possibly want, other than a creamy sauce to dip them in? Yep, we got that, too.
Slow Cooker Red Beans and Rice is the ultimate dish to round out your party spread. Full of smoked sausage and big flavor — it's perfect for letting guests serve themselves. And the best part? You can leave the slow cooker on the "warm" setting all afternoon or evening, so it's ready to go at any crucial gameday moment. You'll fill lots of bellies with this dish, and keep 'em coming back for more.
So get on it, and put these recipes on your gameday to-do list — because a great party menu is the best offense.