BBQ Beans 6 Ways + Buttermilk Cornbread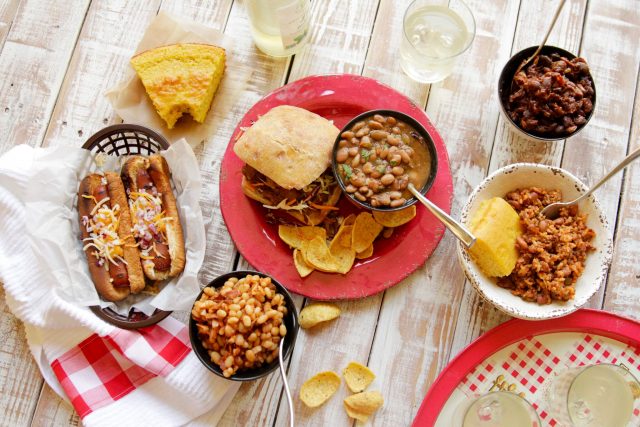 BBQ baked beans are an essential side dish at the best summer backyard barbecues. Here, you'll find 6 stand-out, homemade versions that'll round out any menu and make you ditch any notion of going the canned route. Plus, you get way more bang for you buck using dried beans vs. canned. Featuring a variety of beans, these easy-to-make, pinnable recipes go for deep, distinctive flavor – whether smoky, tangy, slightly sweet, or spicy – and are perfectly seasoned to bring out the best in grilled, smoked, or slow-cooked meats. And a couple are made in the slow cooker, so you can't get any easier than that. Add one to your line up or bring it to a potluck — along with this incredible Buttermilk Cornbread recipe that complements them all — and guests will keep coming back for more.
The key ingredients in this delicious vegetarian recipe are Camellia Brand Great Northern Beans (you can also use Navy Beans or Pintos), bourbon, molasses, apple cider vinegar, maple syrup, mustard powder, ketchup, dark brown sugar, and barbecue rub. And because it's made in a slow cooker, it's simple to throw together. The bourbon gives the dish richness, maple syrup and brown sugar give it sweetness, and even though it takes 10 hours to cook, it's totally worth the wait. So set it, and forget it! Just be sure to sauté the veggies before adding them to the slow cooker. (You can skip this step if you must, but the deep flavor won't be the same). Pair the finished dish with savory mains like barbecue chicken and ribs.
Flavored with bacon, garlic, tomatoes, green chiles, cilantro, spices and a bottle of amber beer, frijoles charros (cowboy beans) made with Camellia Brand Pinto Beans are served warm and soupy. A traditional dish named for Mexican horsemen, or charros, this recipe is an amazing accompaniment to pulled pork sandwiches with crunchy coleslaw. Smoky and tangy, it's a cinch to make because the slow cooker does all the work, and it's a fantastic way to feed a crowd.
Featuring Camellia Navy (Pea) Beans, bacon, chipotle peppers in adobo sauce, red onion, dark brown sugar, ketchup and mustard, this smoky dish comes together quickly. Cook the navy beans ahead of time and refrigerate (a day or two ahead is fine), then when you're ready, mix all the ingredients together, pour into a casserole dish, and bake for 20-25 minutes or until bubbling. So fast and easy, the dish goes great with hot dogs, brats, and more.
This effortless, hearty casserole — when paired with our Buttermilk Cornbread — can be a meal all by itself, or you can serve it along side your other backyard BBQ favorites. Simply cook ground beef, chopped onion, and chopped green bell pepper together on the stovetop, and then combine in a baking dish with rice, seasonings, water, cooked Camellia Brand Pinto Beans, tomato juice, and green chiles. Bake in a 350 degree oven for 30 minutes, and enjoy!
In this super tasty baked bean dish, Camellia Brand Navy (Pea) Beans are slowly simmered with a hambone, onion, bell pepper, and seasonings until tender. Then the hambone is removed, and the beans get spiked with ketchup, Worcestershire sauce and brown sugar, and layered in a casserole dish with strips of bacon. Baked for 1 1/2 – 2 hours in a 350 degree oven, they come out both sweet and savory. Made the true southern way – low and slow!
Talk about a rich, delicious recipe with a kick! This dish features Camellia Brand Pink Beans (similar to Pintos, but smaller and rounder), salt pork or ham hock, chili powder, dry mustard, sugar, molasses and onion. Simmered to perfection and lip-smacking good, these BBQ beans offer big flavor and pair well with everything from ribs to burgers. An old family recipe of Elizabeth Hayward's (a matriarch of the Hayward family), it has been enjoyed at family get-togethers for generations.
What would BBQ baked beans be without sweet cornbread to sop up the goodness? That's why you need this Buttermilk Cornbread recipe baked in what else, but a cast iron skillet, of course. Taking a few extra moments to brown the butter gives the recipe depth, and the end result is delightful for breakfast and as the perfect complement to your baked beans. Like it sweeter? Add a bit more maple, honey, or agave to suit your palate.
Your summer backyard barbecues are about to get a whole lot tastier!