Lowcountry Cooking & The Pea Connection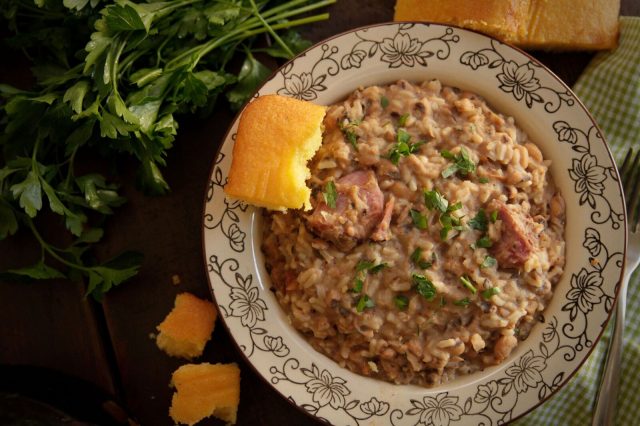 Rich in Flavor & History
Lowcountry cooking, also known as coastal cuisine, hails from the Sea Islands and coastal Georgia and South Carolina. A flat, wet region of salt marshes with lush, semitropical vegetation and an abundance of locally available seafood such as shrimp, oysters, crabs and more, it's home to classic dishes that not surprisingly, share some delicious similarities with Louisiana Creole cooking and the Gulf coast.
Slow cooked rice-based dishes, okra, tomatoes, stewed greens, seafood and field peas are a few of the essential ingredients of lowcountry cuisine and culture, and the resulting comfort food that's enjoyed at both restaurant and family dinner tables alike is savory, hearty, and distinctive.
While it does have similarities to how we cook in Louisiana and across the South, one of the things that's unique to lowcountry cooking is the influence of the Gullah Geechee people, culture, and cuisine.
The Gullah Geechee Influence
With a culture and a culinary way of life that's tied to the land, the sea, and the seasons, the Gullah Geechee of past and present day South Carolina have always relied on local seafood like conch, whiting, crabs, shrimp, and oysters as essential ingredients in their cooking — especially in notable dishes like crab rice, conch stew, and okra soup.
It was their West African ancestors who were enslaved and brought to the U.S. for their rice cultivation expertise in hot, humid climates. Which is why to this day, many of the region's favorite southern dishes feature rice, such as Hoppin' John and Purloo (similar to Jambalaya, it's a one-pot meal made with rice, vegetables like okra, shellfish, and sausage).
But what's fundamental to Gullah Geechee cuisine is its tradition of slow, one-pot cooking that's inspired by Caribbean flavors, as well as a reliance on grains such as millet and benne seed, and legumes such as field peas — which like rice, were also brought the U.S. by their ancestors and cultivated in the lowcountry. Their customs and traditions, both culinary and cultural, have become a part of the region's identity, and have deeply influenced both home cooks and chefs in South Carolina, Georgia, and beyond.
Classic Lowcountry Dishes Enjoyed Across the South and Beyond
A lowcountry classic, Hoppin' John is one of the simplest and most humble of the region's favorite dishes today. Made with field peas or blackeye peas, bacon or ham hocks, onion, rice and seasonings, it's traditionally eaten on New Year's Day to bring luck and money in the New Year. Collard greens are often eaten alongside Hoppin' John, because they're also thought to represent money – as well as cornbread, with its golden color representing wealth and prosperity. But there's no need to wait for New Year's to try our lowcountry recipes — they're delicious and a great way to gather friends and family around the table any day of the year.