Mardi Gras Party Appetizers
Whether you're in New Orleans for carnival or just wish you were, throw a Mardi Gras party featuring great appetizers that are delicious, crowd-pleasing, and easy to serve. Read on to create a beautiful spread varying in colors, textures and flavors, and keep guests coming back for more.
Jay Ducote's Red Beans & Rice Balls celebrate a fresh twist on classic red beans & rice and are worth the extra time and effort to really wow friends and family. In this recipe, Jay's take on red beans & rice (made with our signature Red Kidney Beans) is refrigerated, formed into balls, rolled in flour, egg wash and panko, and then fried in batches. Served with BBQ Aioli and Pickled Red Onions, these beauties will disappear as fast as you can make them. A food blogger, radio host, chef, and culinary personality, Jay knows his Louisiana cooking, and this amazing recipe doesn't disappoint.
A good Bloody Mary with all the fixins' is a must at any self-respecting Mardi Gras get-together, and this recipe gets it right. Featuring bloody mary building blocks like vodka, tomato juice, celery salt, Worcestershire, and horseradish — plus savory, smoky accents provided by a few dashes of Tabasco Chipotle Pepper Sauce and a rim of smoked paprika and kosher salt — this Smoky Bloody Mary will get the party started. Garnished with celery, bacon, pickled okra, cornichons and olives, it's like a meal in a cup!
This Cajun Caviar from Louisiana Cookin' is a healthy, lightened dip that combines cooked Green Baby Lima Beans, Crowder Peas and Lady Cream Peas — along with tomatoes, peppers, red onion, corn and cilantro — in a white wine vinegar and lime juice dressing. Great when served with tortilla or corn chips, it's a versatile recipe that's easy to change based on your tastes. You can use different beans and peas, add avocado, or spice it up with hot sauce. Any which way you tweak it, it's sure to get gobbled up.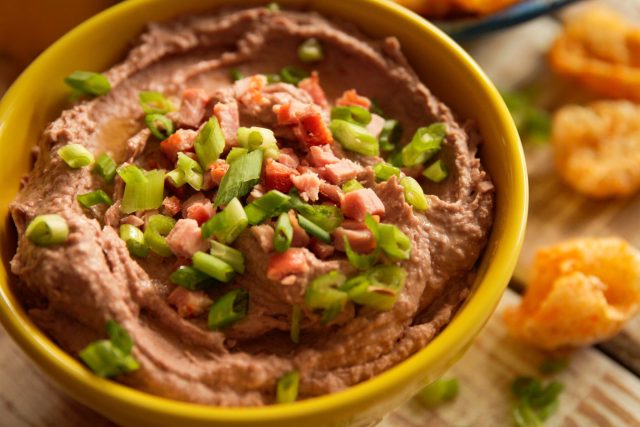 Curt Guillory's Cajun Hummus uses our Red Kidney Beans in place of the traditional Garbanzo Beans — but that's not what makes this hummus Cajun. True Louisiana flavors are what do the trick. Instead of traditional tahini paste, the recipe uses pecan butter, the red beans are cooked with onions and garlic, and cubed tasso gets stirred in to the final dip along with sliced green onions. Serve with fried pork rinds for even more Cajun flavor! Give it a try, and you won't be sorry.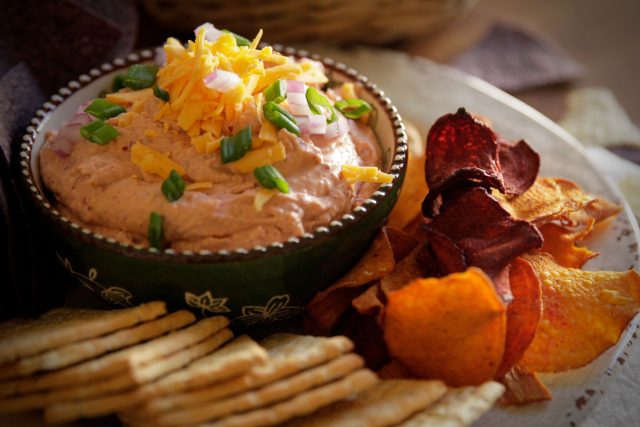 Skinny Red Bean Dip is a quick and easy appetizer that also uses our Red Kidney Beans in an unexpected way. Cooked, tender red beans are processed till smooth along with salsa, light cream cheese and reduced fat cheddar cheese. Let guests scoop it up with crackers or chips and make everyone happy.  Happy Mardi Gras!
Still hungry? Get more Mardi Gras food, fun and festivities.