America's Favorite: Pinto Beans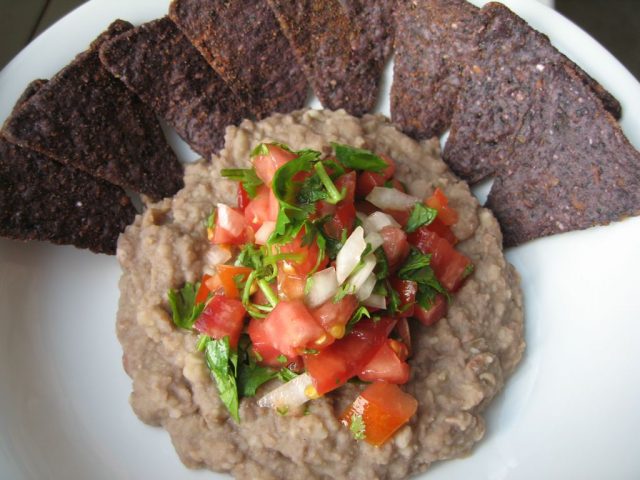 According to the CDC and the USDA, the pinto bean is the most consumed bean in the United States. The USDA reports that from 2006 to 2008, pinto beans "accounted for 43 percent of the 1.96 billion pounds of total domestic dry bean disappearance." That's a lot of beans!
While pintos are used in variety of recipes, they are commonly recognized as the key ingredient in the popular side dish refried beans. And although we don't normally think of refried beans as healthy, the hearty flavor of pinto beans allows a cook to skimp on the extra unhealthy fat and replace it with smaller amounts of healthier olive oil. Just be sure to use the right spices—the most common are fresh garlic, cumin, and chili powder or jalapeno—to achieve delicious results.
Fortunately, refried beans are easy to make at home. The following healthy, low-fat recipes are intended as a guide; you can customize the ingredient proportions according to your preferences. If you are a garlic lover, by all means, add more garlic! And if you are cooking for a spice lover, don't be afraid to increase the jalapeño slightly.
1 1/2 cups Camellia Brand Pinto Beans, soaked
Water or no-sodium chicken or vegetable broth, as needed
2 cloves garlic, finely chopped
1 tablespoon olive oil
1/4 cup chopped yellow onion
1/8 teaspoon ground cumin
Salt and pepper
1. Add soaked beans to a pot. Cover with water or broth.
2. Bring to a boil; reduce heat and simmer gently, uncovered, stirring occasionally, until tender (about 1 ½ hours).
3. When beans are almost done, sauté onions and garlic in oil, about 5 minutes, until onions are clear.
4. Mash or process half of the cooked beans; add mash to onion and garlic. Add a little water or broth to the pan if bean mixture is too thick.
5. Sauté mixture for 10 minutes, stirring frequently.
6. Add cumin and remaining beans and continue cooking until warm.
7. Add salt and pepper to taste.
Makes 6 servings.
3 cups Camellia Brand Pinto Beans, soaked
1 yellow onion, roughly chopped
½ jalapeno, seeded and chopped
2 tablespoons finely chopped garlic
1/4 teaspoon ground cumin
8-9 cups water or no-sodium broth
Water as needed
Salt, pepper, and ground cumin to taste
Shredded Mexican-blend cheese (optional)
1. Add the soaked beans, onion, jalapeno, garlic, cumin, and water or broth to slow cooker.
2. Cook on high for 8 hours, adding water if necessary.
3. When the beans are fully cooked, strain them and reserve the liquid. Mash or process the beans, adding the reserved water as needed to attain desired consistency.
4. When serving, top with cheese.
Makes 15 servings.