Meal Prepping: Feed Yourself & Your Family for a Week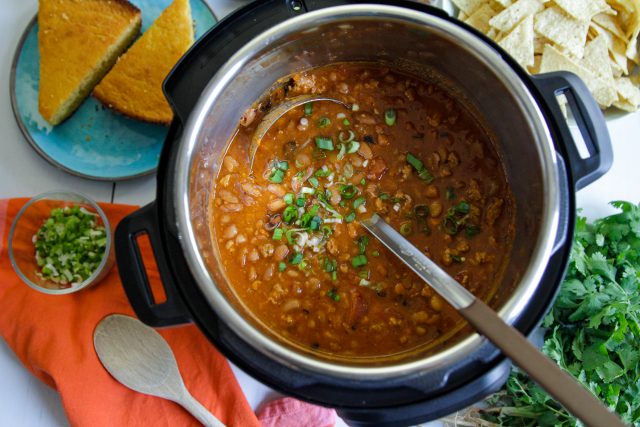 If you're not familiar with meal prepping, it's simply a thoughtful way to plan out several days worth of meals for you and your family. And what's not to love about that idea? It's like taking the age-old question "what's for dinner?" and turning it on its head.
In the spirit of making life a little less stressful and a little more delicious, our take on meal-prepping involves a collection of versatile recipes that 1) can be easily made ahead of time (Sunday afternoon, here's looking at you!), 2) make a lot of servings, 3) keep well in the fridge, 4) offer a variety of flavors, colors and textures, and 5) can be combined in creative ways, so that you don't feel like you're eating the same thing every day.
Read on for the recipes, a game plan with tips on preparing, extras you'll want to have on hand, and how to create different combinations throughout the week that will keep things tasty and interesting.
MEAL PREPPING RECIPES: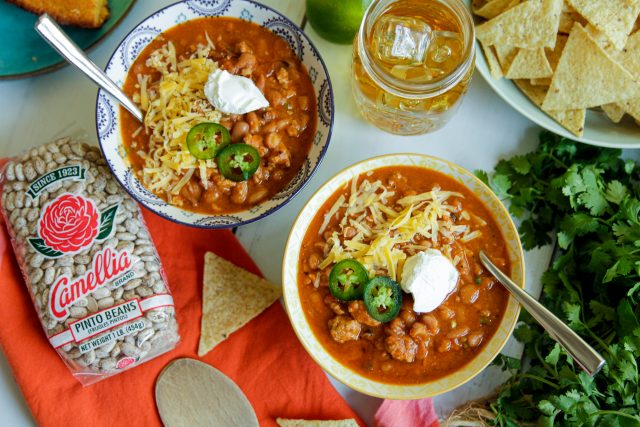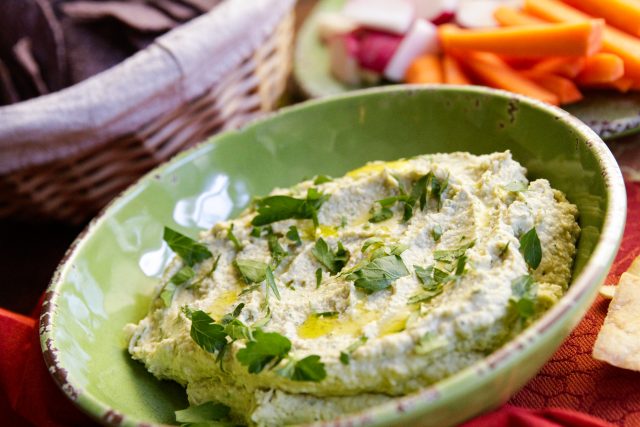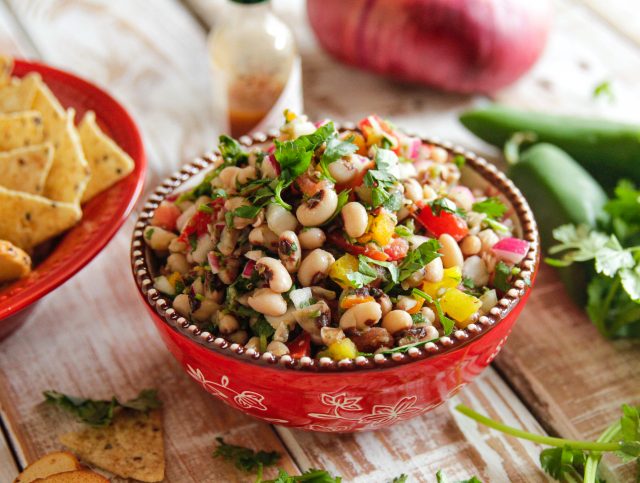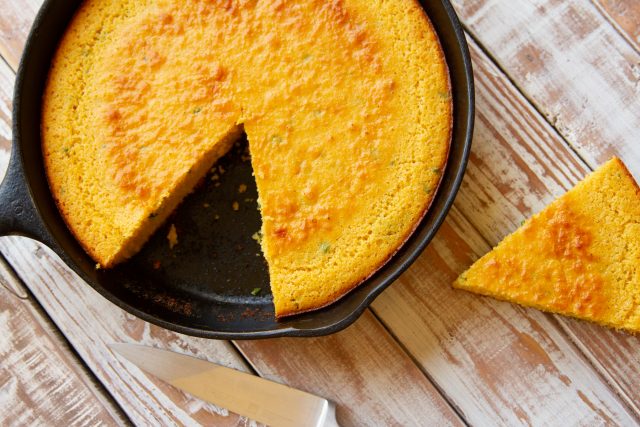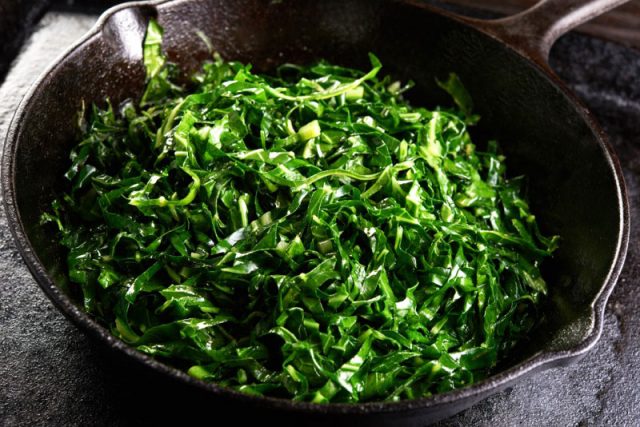 EXTRAS:
Additional veggies like grape tomatoes, avocado, bell pepper, green onions, jalapenos, celery sticks, baby carrots, and olives
Grains and breads like rice, pasta, tortillas, pita bread, chips and crostini
Dairy/cheeses such as cheddar, feta, sour cream or Greek yogurt
GAME PLAN:
Familiarize yourself with the recipes, and make a grocery list. Set aside a few hours of weekend time to shop, chop, and cook. Make sure you have lots large food storage containers on hand.
Note that the chili is made entirely in the Instant Pot, while the hummus and cowboy caviar are cold dishes made with pre-cooked, cooled beans.
Use your Instant Pot or a pressure cooker as much as possible. Or, multi-task by cooking one batch of beans in the Instant Pot while cooking another batch on the stovetop.

Feel free to double the White Bean Hummus recipe, which calls for

2 cups 

cooked

 

Camellia Brand Great Northern Beans

. (Cook the entire 1-pound package, and you'll have 4 cups cooked beans.)
Cook a batch of your favorite rice and a pound of your chosen pasta. They'll keep well in the fridge, re-heat easily, and are part of our recommended meal combos.
The Greens recipe is simple and customizable. Any dark leafy greens will work, such as kale or mustard greens. Cooked greens keep well, can be eaten cold, room-temp, or warmed, and add a healthy punch to meal combos.
MEALS & MEAL COMBOS: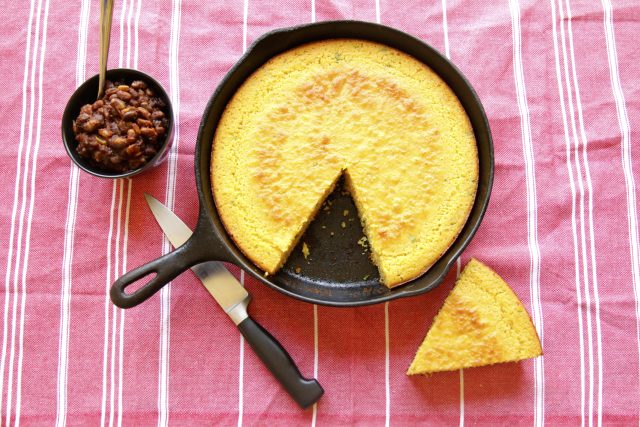 Instant Pot Pinto Bean Chili served hot, topped with cheddar, sour cream, and jalapenos — and yummy Buttermilk Cornbread on the side.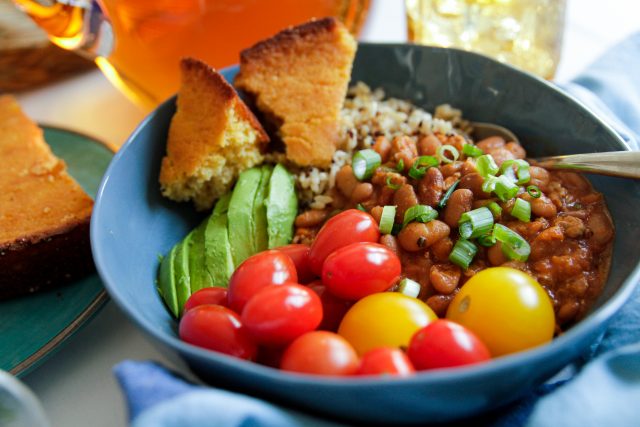 A combo of hot and cool, ladle warm Instant Pot Pinto Bean Chili over rice. Add colorful grape tomatoes, half of a sliced avocado, a sprinkling of chopped green onions, and a hunk of Buttermilk Cornbread.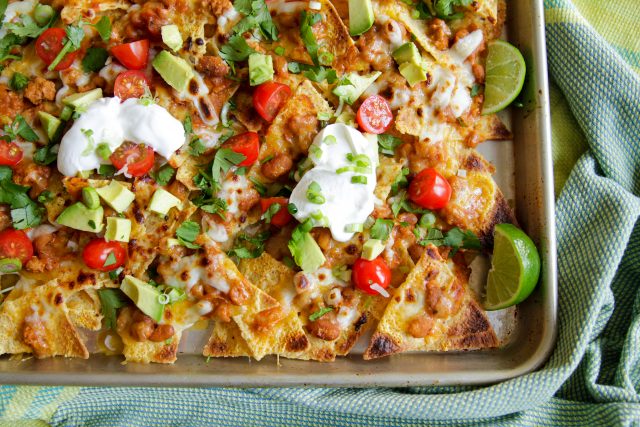 Spread layers of tortilla chips on a sheet pan, top with dollops of Instant Pot Pinto Bean Chili and layers of shredded cheese. Broil until browned, and sprinkle with grape tomatoes, avocado, green onions and cilantro.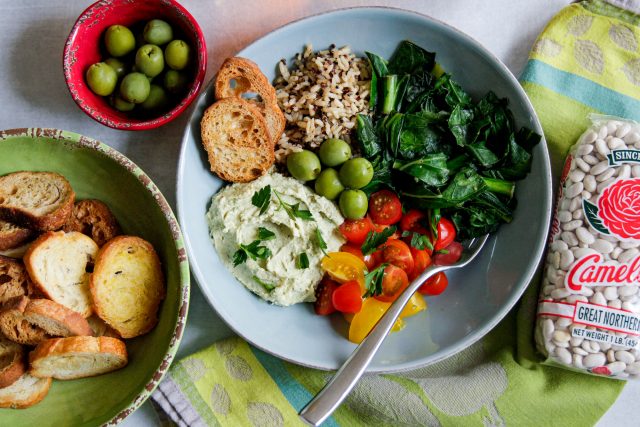 A colorful mixture of White Bean Hummus, Collard Greens, and rice (served cold or room-temp — your choice), plus grape tomatoes, olives, and crostini – which are great for dipping/spreading the hummus.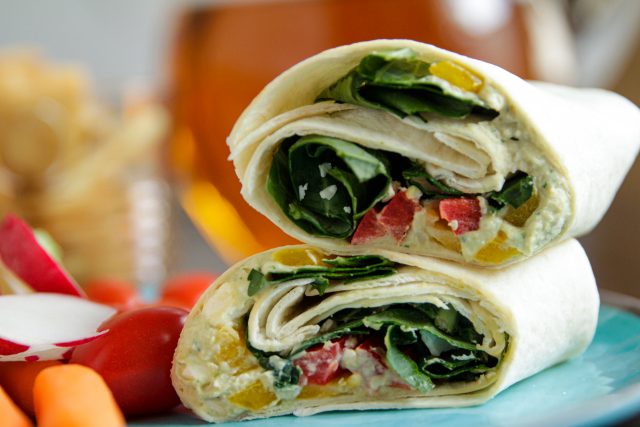 White Bean Hummus, Collard Greens, julienned bell peppers, and feta, all wrapped up in a large tortilla and served with crunchy crudité like celery sticks and baby carrots.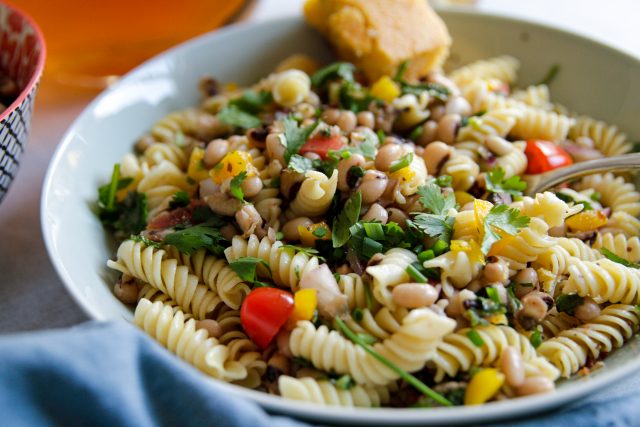 Mix Cowboy Caviar with cold pasta and additional chopped cilantro for a fast, easy lunch.  (The Cowboy Caviar marinates in a nice dressing. Be sure to scoop some  dressing from the bottom of the storage container to toss with the pasta.) A sprinkling of feta cheese is a nice addition.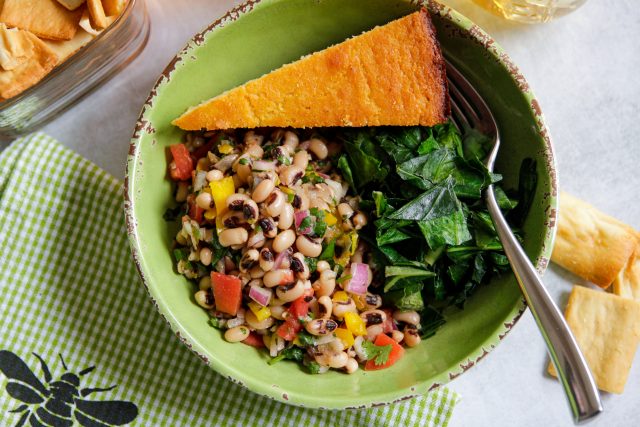 Cowboy Caviar, Collard Greens and Buttermilk Cornbread, all in one bowl. (Served cold or room-temp – your choice.)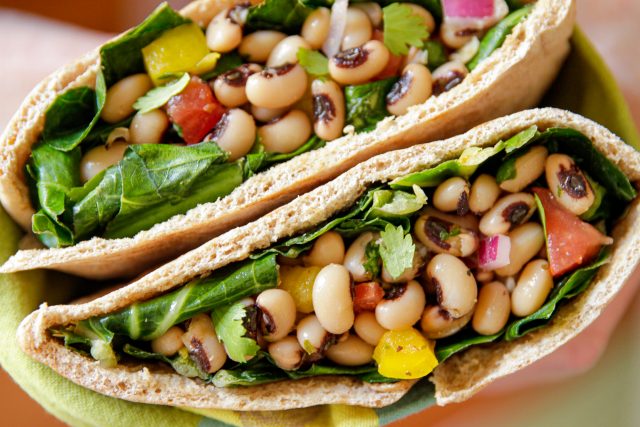 Line a pita pocket with White Bean Hummus, and fill with Collard Greens and Cowboy Caviar for a quick bite.