White Beans and Rice: The Meal of Everyday Comfort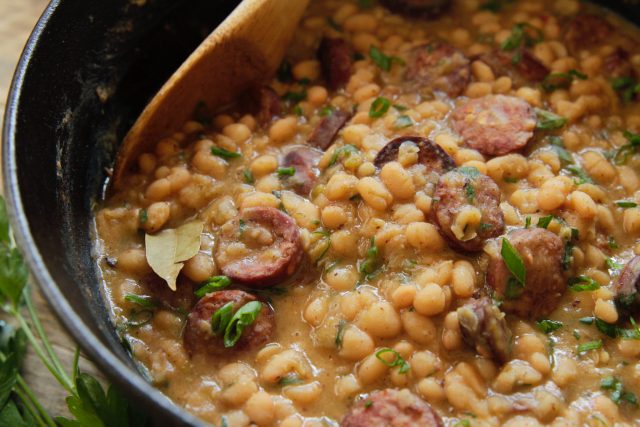 A Look at Pantries Past
Thinking back about my different pantries and their contents over the past decade, there are a few things that were definitely in there, regardless of time or location. I'm a well-known geek when it comes to tuna and other tinned fish, so there have always been plenty of funky, fishy cans stacked next to my requisite flour and sugar. Preserved fruits and pickled vegetables from summer gardens are always mainstays on my pantry shelves, providing little bursts of summer in cooler weather. But most of all, my pantries have always been filled with beans—lots and lots of beans. 
White Beans Deserve More of Our Attention
Through cramped kitchens, cooking disasters and questionable boyfriends, beans—big and small—have always been right there at my fingertips, ready to be simmered into the kind of contemplative, reassuring meal I so often find myself craving at the end of a long day. And while I'm a devoted friend to all beans (truly!), it's white beans—particularly the dish of white beans and rice—that I turn to again and again when I need an extra dose of comfort.
For some reason, white beans don't seem to get the public praise that they deserve, often taking a backseat to their better-known cousins. When paired up with rice, Red beans are the must-eat legume for Mondays across Louisiana. Garbanzo beans are always popping up on fine dining menus in new, inventive ways. And Blackeye peas are so storied and mythical that they're considered lucky. So why haven't white beans been lifted up on their rightful pedestal?
So Many White Bean Options
For starters, many people might not know about the diversity and range of white bean options. You have the nutty, firm Great Northern bean and the big-and-fleshy Cannellinis. You have Baby Lima (or "butterbeans") that have a diminutive size and almost melt-in-your-mouth texture. (They're what I reach for when making any sort of succotash or cold bean salad for a potluck.) And then you have the bean that gives white beans and rice the creamy, dreamy texture I crave: Navy (or "pea") beans.
Quick-cooking and loaded with 19 grams of fiber, navy beans have been populating stews, casserole dishes and even soups on Capitol Hill (where "white bean soup" remains a cafeteria staple) for well over a century. But it's the South Louisiana classic dish of white beans and rice where, I believe, the beans are best able to shine.
Perhaps the Most Versatile Bean On Your Shelf
Seen by many people across the South as the "little sibling" dish to the far-better-known red beans and rice, in truth, white beans and rice often hits different notes than its more famous relative. While many steps of the preparation process remain the same—soaking the beans, using the Holy Trinity (bell pepper, onion, celery) as a flavor base, tossing in a hunk of ham hock or slices of andouille, ladling over white rice—white beans and rice often has room to get a little bit looser with its stylings since it's not so heavily tied to a weekday tradition.
It takes well to a host of herbs and seasonings, with thyme, green onions and parsley adding a punch of freshness to the dish. With red beans and rice, hot sauce seems to add an extra layer of smoky, meaty depth, but with white beans and rice, it's able to brighten (and, of course, spice up) a dish that often retains a lighter feel. Feeling creative? Try a different kind of white bean in the dish (Great Northerns work, er, great). Even switching up the type of meat cooked up in your white beans can feel revolutionary, pivoting from smoked sausage, to pickled pork, to salt meat in an effort to find just the right flavor. If red beans and rice is a masterpiece that you're trying to recreate each week, white beans and rice is a canvas built for experimenting whenever you want. And, since it's such a budget-friendly dish, trying out new ways to gussy it up isn't a wallet-emptying exercise.  
White Beans: A Messenger of Comfort
But that's not to say it doesn't have traditions attached. You'll often find white beans and rice listed as a side dish at plate lunch counters across Southern Louisiana or, in some parishes, served alongside catfish—particularly during Lent. It's a meal I've brought to new parents during those first sleepless nights after a new baby and to neighbors going through difficult times. Globally, there are few better messengers of comfort than white beans and rice, whether you're making fasooli, an Arabic white beans and rice dish with a tomato-base, or the sage-laden Italian version. And while the process of making it is what I find most soothing and meditative, there's truly no better feeling than the look of gratitude on someone's face when you bring them a helping.
The next time your week has been particularly grueling and exhaustion is tingling in every bone, look no further than your pantry to find the trusty ingredients that will provide you with the simple, warming meal your spirit needs—white beans and rice. And after you've fallen head-over-heels for it like me? From Warm Asparagus, Mushroom and White Bean Salad, to a heaping bowl of White Bean Chicken Chili, the possibilities of your new white bean-loving world are endless. 
Here are several more favorites to try: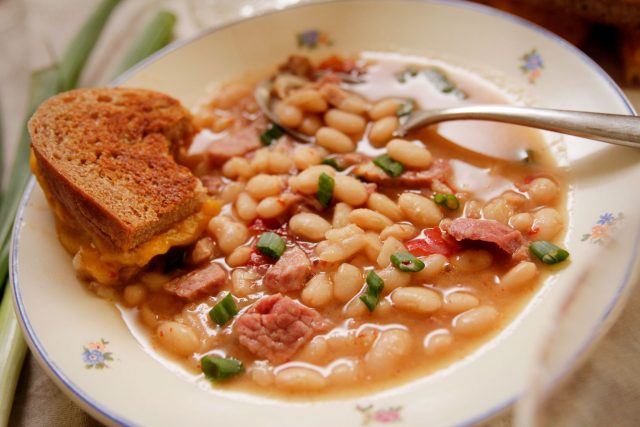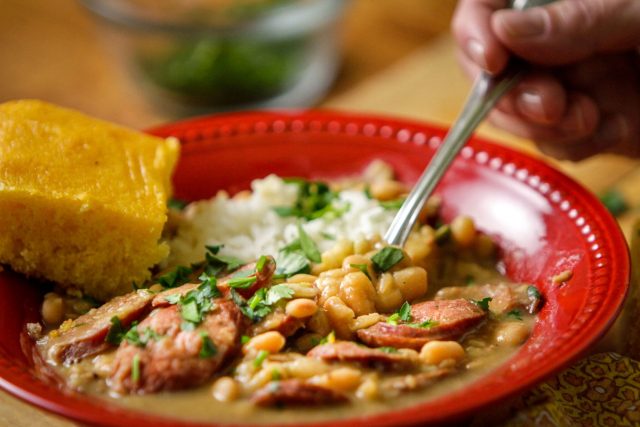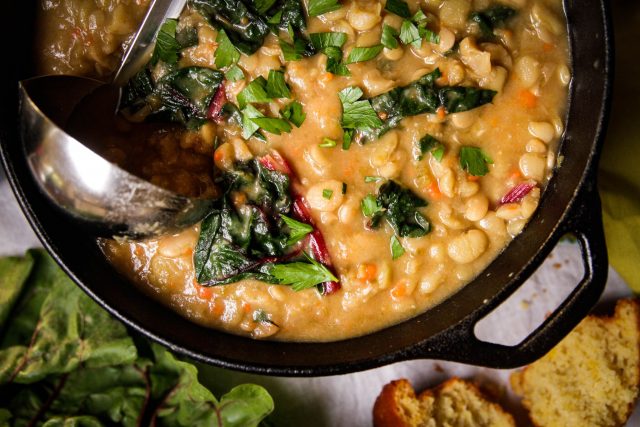 Written by Sarah Baird, a writer and editor based in New Orleans. An award-winning former restaurant critic for the city's alt-weekly and seasoned tippling enthusiast, her work appears regularly in print and online for Lucky Peach, Food52, AFAR, Pacific Standard, Saveur, The Atlantic, Eater, The Village Voice, PUNCH, The Guardian, GOOD, Liquor.com and beyond.